Bo Staff Fitness | About Us
Our Team
Alla Kalinina
Alla is a qualified FUSAF FFVS Rehabilitation Instructor and Aesthetic Therapist and has been passionately involved in fitness teaching throughout her adult life. She holds a BSc in Fitness Physical and sports training from Ukraine National Technical University in Kiev, and has also completed additional studies in Yoga, Pilates level 1&2, Basic Aesthetic Cosmetology and holds a level 3 Certification in Modern Choreography.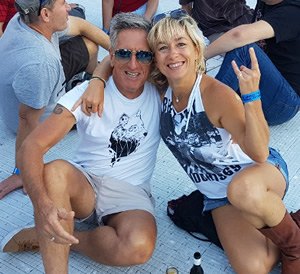 She is a Port De Bras© instructor which is a wonderful and gentle rehab method and an Aqua Aerobics instructor. She speaks several languages English and Polish (spoken) Italian, Russian, Ukrainian (fluent) and is also qualified in both our Bodywall® rehabilitation-fitness training and ScarsAway® dermal rehabilitation therapies.
Chris Toal
Chris is an MNZ Level 6 Registered Massage Therapist additional training in Fascial Kinetics® Deep Tissue Myofascial and Sports Massage therapies. He's a ScarsAway® Bodytool® Therapist and educator, a Bodywall® trainer and TRE Trauma Release Exercise® therapist.
Now in his mid-60's he enjoyed a successful business career before his life turned around during 97 Trans-Tasman yacht race. Severe storms left Chris with considerable loss of function. Deep tissue therapy solved the problem, myofascial massage became an interest, and from there bodywork in all its forms became his life's passion.
Chris was involved in the development of several new therapies. Bodytool® ScarsAway®, the patented Bodywall® rehab / training system and TBT© Tennis Ball Technique for deep tissue self-care at home and now working with Alla they have developed BoStaffFitness® Chris holds a number of directorships and patents in the health sector and is a Director of: Wellness at Work Ltd, Azolla Health Ltd, Bodytool Ltd, ScarsAway (Aust) Pty Ltd and Bodywall Ltd.
How We Fund This Work
BoStaffFitness® is self-funded, what this means is that we don't have backers or big companies investing in our efforts nor do we have product placement or advertisements here. This website and all of the work that goes into it are supported exclusively by Alla and I and here is why.
Providing accessibility to the best possible rehabilitation methods is what we have both always tried to do, for decades we've done our best to make sure you find something of use in our content. You can learn more either at www.wellnessatwork.co.nz or www.azollahealth.com websites or now here at BoStaffFitness®. We want to provide you with great information ideas and products to get you well and keep you healthy. Because Alla and I decide on the content we can focus on subjects and content that delivers results. Information and ideas that work.
We believe BoStaffFitness® is one of those ideas, so if it works for you please use the subscribe link and share knowledge like we do.