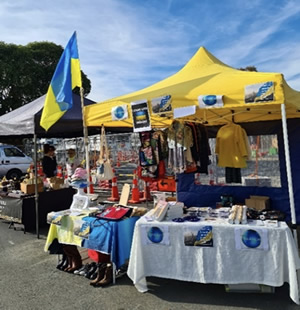 Thanks so much for taking time to look at what we are doing with The KUZN Foundation Trust.
Here's some background. On 24 February 2022, Russia invaded Ukraine in an escalation of the Russo-Ukrainian War which began in 2014. By June 2022, about 8 million Ukrainians had been internally displaced, over 8.2 million more had fled by May 2023. It was Europe's largest refugee crisis since World War II.
Since then, Wellness at Work have been supporting Ukrainians in their struggle for freedom.
Initially this was by joining in fund raising initiatives for defenders and refugees plus supporting events to raise awareness.
Later we began directly assisting refugees as they arrived in New Zealand by treating them for PTSD / Post Traumatic Stress Disorder and helping them where we could as they tried to fit into NZ society.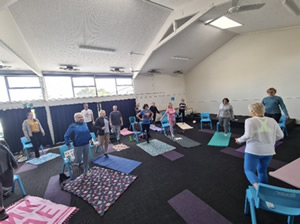 Some of the most badly afflicted refugees had been in the city of Mariupol and the village of Bucha where significant atrocities occurred. They had what soldiers call the "thousand-yard" or "machine gunners" stare and were disconnected from life. We began teaching them Dr David Bercelli's TRE and it was wonderful to watch them come back to a better path and even smile.
Early 2023 we decided to focus on rehabilitation outreach within Ukraine itself. We figured by applying the skills we have developed in our clinics in New Zealand we could help Ukrainian defenders by treating many injuries that while unresponsive to conventional treatment, respond to our methods and systems.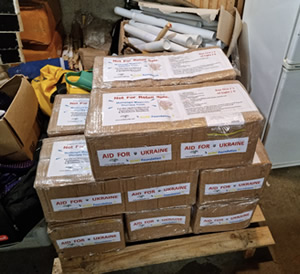 Though our company Azolla Health we committed to, packed, labelled and with the help of Tetyana Sayenko plus another aid group, we managed to ship $20k of Magnetic Therapy Tools to Ukraine.
These arrived mid-October and are already committed for use in the treatment of defenders and civilians for Concussion & Shell Shock and Active Stump Neuroma a painful debilitating condition which unfortunately is common due to land mine and shelling injuries.
While I was busy doing this in NZ, Alla was busy working in Ukraine. She spent four months 'solo' on the ground. She began by working one on one in hospitals, speaking on TV and raising awareness of what types of injuries we can work on, and how our treatments can assist in recovery.
Primarily she focussed on injured defenders, however she also treated injured civilians, plus trained local therapists in the use of our tools and supplied them with tools to get the process started. Knowing I was to join her in August, Alla arranged meetings and set up a lecture in her home city and her preparation was invaluable.
Together we met with senior health officials and arranged follow up contacts. We ran some training sessions for therapists demonstrating on unrecovered injured soldiers 'in real time' so therapists could observe for themselves, the speed and effectiveness of the treatments and the tools we use. This helped to establish connections to further expand our reach those with the highest need.
Because the work in Ukraine has focussed mainly on treating badly injured Ukrainian defenders it involves treating a wide range of trauma's. Many are similar to what you might encounter in very severe car accidents however traumatised tissue from shell or missile attacks can be seen across the whole body so treatments can be quite complicated.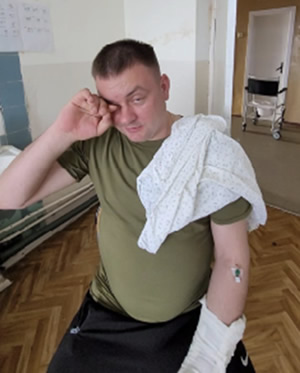 They include, bodies riddled head to foot with hundreds of tiny shrapnel wounds. Many of these may be impinging on nerves and creating a web of complicated Golgi Tendon muscle restrictions and spasms. There are 'blast amputations' that leave areas of Active Stump Neuroma. Here the pain can be excruciating as nerves attempt to regrow. Then you have 'crush injuries' from tanks and heavy vehicles, severe and multiple head injuries, with 'Traumatic Brain Injuries, TBI's'. Limbs and skulls with multiple metal plates screws and pins plus conventional concussions and 'whole of body shell shock' where the entire myofascial network is in severe pain and distress. It is a huge learning experience that is challenging but also remarkably rewarding.
As mentioned, many cases present with very restricted mobility from very significant adhesions. There are often areas of high pain sensitivity, and multiple adhesions from shrapnel are commonplace. By using our specialist treatment tools we developed, we are often able to work with these traumas when other methods are of little or no assistance.
Then of course there is the emotional trauma. The "Thousand Yard Stare" Or "Machine Gunners Eyes." Many of these men and women have seen things that should forever remain unseen, and to most this must remain unspoken. As we treat them and the pain fog subsides they often open-up and talk. For those that are 'emotionally damaged' you don't have to be 'trauma therapist' to see the impacts on them. It's clearly visible in their eyes and body movements. Their ability to move is heavily restricted as well as the ability to communicate and to reintegrate to society.
For these we use release methods focussed on the high-stress build-up of muscle tension patterning (engrams) around the adrenals plus the upper and lower abdominals . With this work we are looking to reduce tension in those areas to assist in reducing inflammation, slow and improve digestion, reduce fear responses, and therefore speed recovery. Once we undo the 'fear' and 'grief' muscle patterns the changes are almost instant and can be quite astounding. On the page you will see videos from defenders with big smiles, many waving thanks as they can now see a path forward.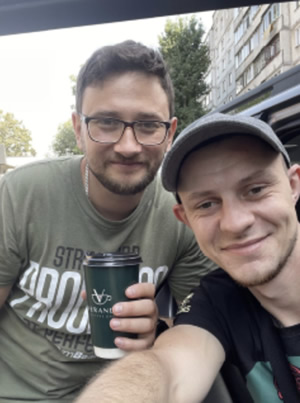 For us the work is challenging and confronting, both emotionally and intellectually. At night 'sometimes every other day,' you are woken by the howl of air raid sirens and find your city under missile or 'Shahed' drone attack. You do your groggy best to find shelter, and later after it's over, try to get some sleep, because the next morning you need to be at full strength to do your job. It's not always easy.
Many of the people we are treating have lost close friends or family. In some cases, they are the sole surviving member of their group or family. Where do you start to treat when the patient has missing limbs and / or and several hundred shrapnel wounds impinging muscle and neural tissues? How do you work on individuals who are emotionally and mentally 'lost in space' or on the edge of major collapse. With a lot of love, sometimes tough love and lots of care.
Our work has been noticed and recognised as helpful. In December 2023 we will deliver a series of lectures at The National Rehabilitation Hospital 'The UNBROKEN CENTER' and the Lviv University Medical School and waiting to confirm the same at the Neurological Hospital in Vinnytsia as well.
Alla and I are very grateful to all our supporters and donors. Without them a lot of this work would be even harder to do.
Thank you for taking the time to read this. Please do not forget the Ukrainian people. They are good people trying to lead a peaceful life who now find themselves in a horrible situation. They need people like us to stand with them. We need Ukrainians to succeed in defending their country, mostly because it's the right thing to do.
Also, it just might ensure we don't find ourselves facing the same situation.
Would you like to support our work in Ukraine?
If you wish to support the rehabilitation work that Alla and Chris do in Ukraine, you can do so by supporting the KUZN Foundation Trust directly.
Payments can be made to the "KUZN Foundation Trust", ANZ bank account No: 06-0323-0850050-00
A copy of the KUZN Foundation Trust deed outlining our activities can be made available on request.



For the KUZN Foundation Trust
Links to Defenders video interviews:
Link to a quick explainer of our TMRI Magnetic tool:
Interviews post PTSD treatments with Refugees: